Michael Jordan names his ALL TIME best pickup team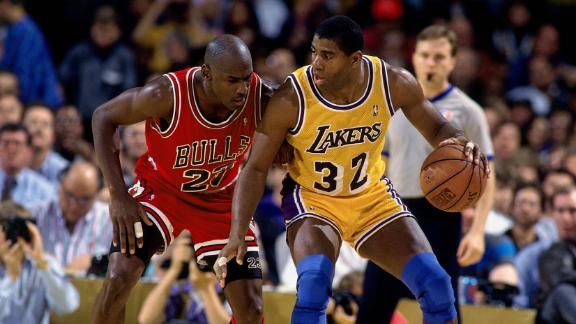 Stephen A. Smith and Skip Bayless weigh in on Michael Jordan's all-time pickup team, consisting of Jordan, Scottie Pippen, James Worthy, Magic Johnson and Hakeem Olajuwon. Smith and Bayless picked their own teams. So we had to weigh in with our own list as well.
Michael has picked a team that
can't beat
the team we named; check out the [videos] below. The team we named would be a much better pick up basketball team. Our team would be playground ready! Put OUR team on the court at Rucker Park in Harlem against MJ's any day of the week.
Now as far as list goes, Skip Bayless' list is a joke, but we feel our five would beat Stephen A. Smith's group of five as well. We chose a list of players that were not on any of the other lists. Pound for pound the following are much better players.
Our pick-up team would be Julius "Dr. J" Erving (best dunks), Allen Iverson (too fast), Kobe Bryant (as intense as Jordan with a better jump shot), Shaquille O'Neal (too strong), and Lebron James (too strong also and besides somebody has to pass the ball to the others).
Whatever your thoughts, it makes for a great discussion on the radio.