Philly Black Radio Legends Captured in New Documentary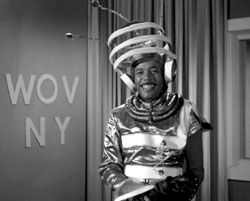 "Jocko" Henderson, the original rapper,
"The Ace from Outer Space"
Hosted in Philly, NYC, and was
syndicated by reel-to-reel tape
A fitting Tribute to Black History Month
"Going Black: The Legacy of Philly Soul Radio" is a two-hour show written and produced by Yowei Shaw and Alex Lewis and hosted by the legendary producer/record executive of The Sound of Philadelphia, Kenny Gamble. The radio documentary will air at 6 p.m. on February 16, 2014 (Sunday night) and on Saturday February 22 at 2 p.m. on
WHYY-FM (90.9)
in Philadelphia.
The show takes a look mainly at the impact of 1480 WDAS AM and 105.3 WDAS FM; and to a lesser extent 1340 WHAT radio. Those stations catered primarily to African American audiences. As the documentary details, the AM radio stations garnered huge audiences among White teenagers as well in the 1950's and 1960's. Much in the same way that Hip Hop impacts mainstream audiences today. More on the background of the series is chronicled in the article
The voices of Philly's soul radio
.
Georgie Woods, "The Guy with the Goods",
worked at both WDAS and WHAT
You can listen to
individual interviews
from the WDAS and WHAT DJ's at Mighty Radio or [click] on
Play More Tracks
from the Sound Cloud player above after listening to the Kenny Gamble promo. These interviews were incorporated into the documentary.
Some of the interesting stories that came out of the documentary surround the ownership of WDAS that came under attack (literal guns and weapons attack) by a group that didn't feel the station should be under White ownership. There are riveting stories throughout the documentary from the stations' origin to their status within the community today. Overall the impact of the on air personalities made in their community is unparalleled when compared to today's radio landscape.