Tyrone Johnson Lands Full Time Producer Position at Sports Radio 97.5 The Fanatic
Beasley Media Group sports talk station "
97.5 The Fanatic
" (WPEN) Philadelphia has named
Tyrone Johnson
producer of Mike Missanelli's afternoon show and has upped part-timer
Natalie Egenolf
to a full time role as sports update anchor (12-6pm) and social media coordinator.
Eric Johnson, director of sports content, said Tyrone Johnson, "has the sports knowledge, radio experience and comedic timing that will enhance Mike's show." Regarding Egenholf, Johnson added "Natalie Egenolf has so much passion for Philadelphia sports and is very plugged in to the Philadelphia sports social media scene."
(Source Inside Radio)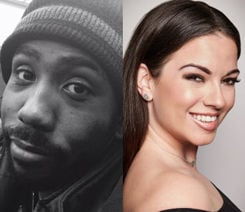 Both Johnson and Egenoff roles as producer and anchor stretch well beyond what their radio jobs might suggest. Behind the scenes and short 5 minutes segments is not their roles on the show. They are essentially co-hosts and interact with lead host Missanelli throughout the four hour daily sports show.