FLOW 93.5 is Back in Toronto
Common interviewed on FLOW 93.5 in 2014
Canadian Broadcaster, Stingray Group, Inc. has announced the return of Hip Hop and R&B station FLOW 93-5 (CFXJ) to the Toronto airwaves. FLOW 93-5 debuted in 2001 and became an iconic Hip Hop station north of the border. Then came the flip in 2016 to a Top 40/Rhythmic format as MOVE 93.5.
CFXJ PD Josie French said, "There has never been a better time to welcome back FLOW 93-5. Extensive research has told us that Toronto understands FLOW 93-5 means Hip Hop, it means community and that it evokes excitement. Our core artists are not only Hip Hop's biggest stars, they are global celebrities breaking sales records and dominating the charts; Drake, The Weeknd, Cardi B, Travis Scott, Nicki Minaj, Kendrick Lamar, and Post Malone are part of our musical foundation."
You can check out the station live at www.flow935.com.
---
Imagine in the states if one day Hot 97 just went away. That is what it was like in 2016 when FLOW simply disappeared.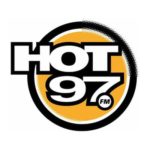 Our take at the time [
Toronto's 93.5 The Move Adds Current Tracks to Its Throwback Playlist
] was the corporate decision to move away from Hip Hop and into Pop music was a mistake in 2016. The station suffered in the ratings almost immediately. They slowly tinkered with the playlist by adding in Classic Hip Hop and Throwbacks. At the time their thinking was Rap and Hip Hop music was losing it's popularity with listeners and/or they couldn't sell the format to advertisers any longer. Of course there was a shift is music sales. Labels were not generating sales in the traditional way for a number of years. There was suffering. But they incorrectly surmised that Hip Hop music was dying. However with artists' ability to re-invented themselves on other platforms, primarily through streaming, Hip Hop in terms of sales has made a comeback. And so has FLOW.
More of the story on the return of
FLOW 93.5
from the Canadian website
NOW.