JAM'N 94.5 Replaces The Breakfast Club with Local "Ashlee & The New JAM'N Morning Show"
Interesting move for iHeart Media, which owns both JAM'N 94.5 in Boston and Premiere Networks, the syndication company that distributes The Breakfast Club from iHeartRadio station Power 105.1 in New York. The show came on board in Boston market in 2016 at JAM'N 94.5 and features Charlamagne tha god, Angela Yee, and DJ Envy.
---
Boston's #1 for Hip Hop, announced today the "Ashlee & The New JAM'N Morning Show," debuting Monday, March 25. "Ashlee & the New JAM'N Morning Show" will broadcast weekdays from 6 a.m. – 10 a.m./EST.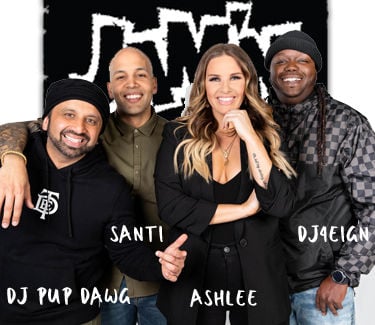 Ashlee & the New JAM'N Morning Show will star JAM'N 94.5's on-air host Ashlee Feldman and be co-hosted by popular Boston on-air personality Santi Deoleo as well as feature DJ Pup Dawg and newcomer DJ4eign. The new morning show will broadcast the latest Hip-Hop and lifestyle headlines catering to the local Boston scene, and will also bring back a listener favorite, JAM'N 94.5's JAM SCAM.
Ashlee most recently served as afternoon-drive host for JAM'N 94.5. In addition, she served as a morning show co-host in 2013 for the station.
She was also a cast member of the 24th season of MTV's "The Real World" prior to working at radio stations in St. Louis and New Orleans. Ashlee is a graduate of Northeastern University in Boston, Massachusetts.
In addition, Santi Deoleo is no stranger to JAM'N 94.5, and returns to the New JAM'N Morning Show with his former sidekick, Ashlee Feldman. This New England native will also be joined by JAM'N 94.5's Hip Hop music authority DJ Pup Dawg, who listeners can also hear weekdays at noon with the "Back In The Day Buffet", 5pm with the "5 o'clock Traffic Jam", 6pm "The Mix at 6", the "iHeartRadio 9 at 9" countdown and "The Takeover" at 10pm; as well as newcomer DJ4eign who has been steadily dominating the club and mixtape scene, as well as DJing for some of the industry greats such as French Montana, Young MA, Fabolous, Usher, Elephant Man, Mr.Vegas, Kevin Lyttle and others.
"We're excited to have Ashlee back in the morning on JAM'N,"
said Dylan Sprague, Program Director for JAM'N 94.5 and Senior Vice President of Programming for iHeartMedia Boston. "It's been exciting watching Ashlee's career soar. Her attitude and energy were uncontainable in the afternoons and we can't wait to hear her and Santi team up again on JAM'N 94.5."
"JAM'N has always been my family," said Ashlee. "I remember playing basketball at Northeastern and worrying about how I could get my hands on some cash because I just had to buy a ticket to Summer Jam. I've had many different roles at JAM'N 94.5 but I always knew where my home was and that is back in the mornings."
JAM'N 94.5 is the leading media outlet in the Boston market with multiple platforms, including its broadcast stations; live events; data; and its digital businesses and platforms, including mobile, social and its own iHeartRadio, iHeartMedia's free all-in-one digital music, podcasting and live streaming radio service – with more than 2 billion app downloads and 125 million registered users.