Power 99 and Sunday Morning Inspirations Host Don "Juan" Banks Has Died

Don "Juan" Banks, one of the original on-air personalities at heritage station Power 99 (WUSL) has died. He was best known for hosting the Sunday Morning Inspirations Show on the station. He was the top fill-in host at the station along with doing overnights and weekends. He died on Wednesday, July 31, 2019. He was 62. A full story on his radio legacy is at
The Philadelphia Tribune.com
.
Banks was an icon of the airwaves in Philadelphia for decades on WUSL-Power 99FM, where he was an on-air personality and production director until 2009. Don began working as an on-air personality at Country music station WUSL known as "US1 Radio." When the station changed formats to Hip Hop as "Power 99" in 1982, he stayed on, became Production Director, and remained with the station for the rest of his professional career.
Banks was a "quiet spirit" who was generous and mentored interns and new talent at the station, said Loraine Ballard Morrill, the director of news and community affairs for iHeartMedia Philadelphia/Power 99 FM.
"He truly really exemplified the best in broadcasting in terms of his professionalism and his generosity and his support of young artists and people who were just coming up in the field of gospel music," said Morrill, who worked with Banks since she started at the station in the early 1980s.
Dave Allan
, former program director and general manager at Power 99 FM, said Banks never turned down a request to fill in for someone and he became synonymous with the station.
"He was always the go-to guy, the vacation guy and, clearly, one of the most popular disc jockeys that was ever on the radio station," Allan said. "He was on seemingly all the time."
Banks later launched his Sunday Morning Inspirations program in 1997, originally known as Sunday Morning Slow Jams.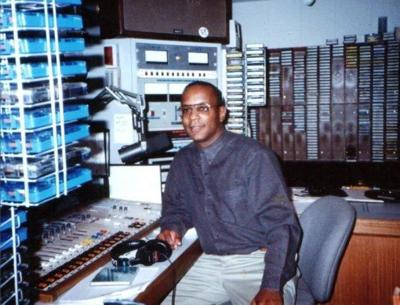 At that time, few hip hop stations in the country had gospel music programs, but the show's ratings were soon "off the charts," said
Colby "Colb" Tyner
, a former host at Power 99-FM and a colleague of Banks' for 16 years.
"We had never seen ratings like that for a show
and that's when he really carved out an identity for himself by being sort of like the inspiration guy at the station," said Tyner, the vice president of programming at Radio One.
---
A viewing for Don Banks will be held on Thursday morning from 10:00-11:00 AM in Alpha Baptist Church 15 Rose Street Willingboro, NJ. A Funeral Service will be held at 11:00 AM in the church. Interment will be in Odd Fellows Cemetery Burlington, NJ.
(From Legacy.com)