Before The Black Mamba and L.A., Kobe Bean Bryant Was A Philly Basketball Legend
It's been almost a week out from the tragic helicopter crash that took the life of Kobe Bryant and stunned basketball fans worldwide. Most fans of Kobe have only known of his accomplishments from the time he entered the NBA as a member of the Los Angeles Lakers. However before he became an NBA legend, he starred for Lower Merion High School, located just outside of Philadelphia in Ardmore, Pennsylvania. It was there he became the number one high school player in the country and entered the NBA directly from high school.
One of the his most memorable games was a game where Lower Merion High School was pitted against Roman Catholic High School. In that game Kobe went head to head against their star player
Donnie Carr
. Roman defeated Lower Merion, 67-61, at Drexel's Physical Education Athletic Center in a game played in December of 1995. Carr, a power forward, finished with a game- high 34 points while being guarded by Bryant, a point guard. Bryant scored 30 points. For much of the game, the two traded bucket for bucket, dunk for dunk.
Roman Catholic defeated Lower Merion, 67-61, at Drexel University's Physical Education Athletic Center.
The matchup of Bryant and Carr had been long-awaited, and neither disappointed the sellout crowd. Carr, a power forward, finished with a game high 34 points while being guarded by Bryant, who scored 30 points.
Many speculated that if Bryant had not decided to go to the NBA he may have ended up at Duke, or perhaps North Carolina playing alongside Vince Carter. But the word at the time in Philly was Kobe Bryant was going to play a year at LaSalle University in Philadelphia then go to the NBA. It's the school where his father, former NBA player (Sixers, Clippers, Rockets) Joe "Jellybean" Bryant played. At the time it was where Kobe's dad was an assistant coach. Joe recruited Kobe's rival, Donnie Carr to LaSalle. The thought of Kobe pairing up with Carr must have crossed his mind quite a few times.
However Kobe decided to make himself eligible for the NBA draft where he was drafted number 13 in the first round by the Charlotte Hornets. Lakers GM Jerry West traded their starting center Vlade Divac to Charlotte for the unproven 17 year old fresh out of high school. At the time most players being drafted out of high school were playing the center position and were close to or at 7 feet tall. It was rare that a player who stood only 6' 6" and played the guard position would even be considered. It was a risk. Kobe was not a sure thing to many.
How could he be ready to play against grown men?
He was.
From April 13, 2010
Kobe's work ethic and skill was legendary in Philadelphia basketball circles. Kobe would regularly play pickup games against the 76ers. The coach of the Sixers at the time was
John Lucas
, who was one of many mentors for Kobe. Word got out that Kobe was the best player in the gym while going up against NBA players Jerry Stackhouse and Vernon Maxwell. Best player in the gym is an understatement. He was destroying NBA players.
Sports Radio station 97.5 The Fanatic (WPEN-FM) interviewed Donnie Carr, who is now an assistant coach at his alma mater LaSalle University, this week as he reflected on the passing of one of his best friends as a teenager. He commented on Kobe's work ethic and the time during a summer league game where Duke's Mike Krzyzewski, Bobby Knight, and other top college coaches attended in 1995. Kobe got the best of Carr. He was devastated.
Listen and/or download here at 97.5 The Fanatic.
It's well worth a listen.
Kobe work ethic was discussed with Michigan Assistant Coach
Phil Martelli
. He was the head coach at St. Joseph's University. He guided St. Joe's to the number one ranked team in college basketball with future NBA players
Jameer Nelson
and
Delonte West
in 2004. But back in the mid 90's, it was Kobe who would work out and play pickup at the college. Martelli said Kobe would go to the gym at St. Joe's after having practiced at Lower Merion High School earlier in the day. He locked a 16 year old Kobe in the gym on July 4th with another teenage player,
Lynn Greer
, who went on to play for
John Chaney
at Temple University and played in the NBA. Kobe wanted to play somewhere that day. That was the only gym that he could get into on the holiday.
Listen and/or download here at 97.5 The Fanatic.
This one as well is worth a listen also.
Directly across the street from the St. Joe's Fieldhouse and gym is Larry's Steaks, Kobe's favorite place for a Philly Cheesesteak. Our favorite also. This week they raised a banner in his and daughter Gianna's honor.
R.I.P. Kobe Bryant. ...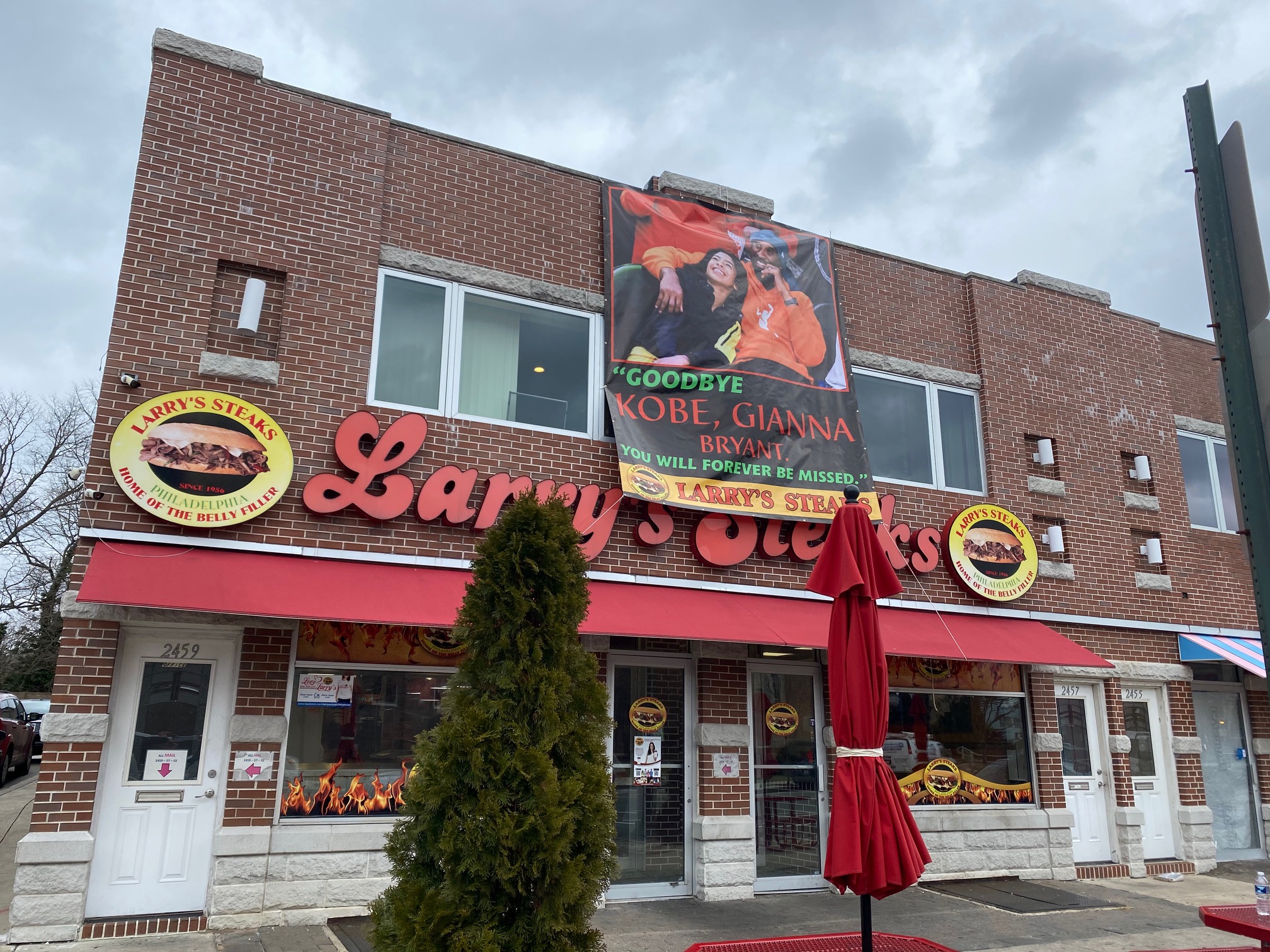 From December 2015
---
Updated 02/02/2020
A former classmate of

#KobeBryant

shared with us some footage from Bryant's days as a 17-year-old at Lower Merion High School, where he was a teenage star before becoming an NBA legend.

pic.twitter.com/12Lvwq4Swf

— The Philadelphia Inquirer (@PhillyInquirer) February 2, 2020
---