BOXTOROW Expands Reach to HBCU Base with Addition of ESPN Radio Richmond as New Affiliate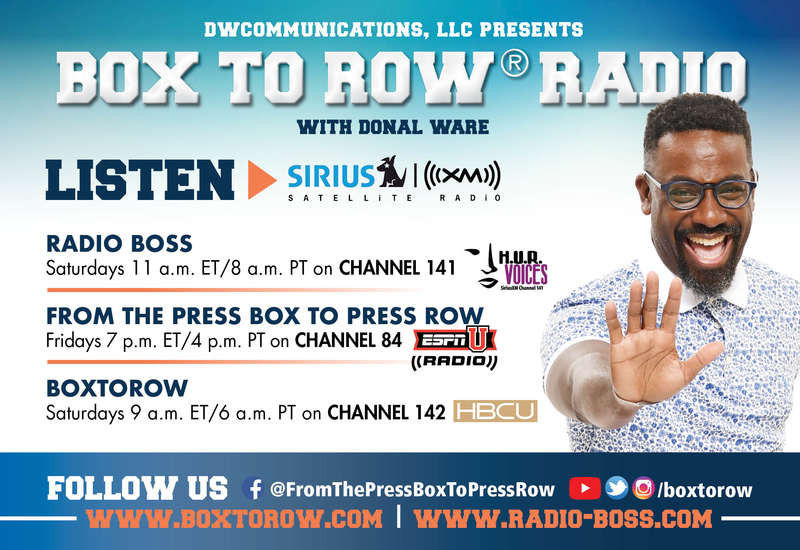 DWCommunications, LLC announced today that the national radio program FROM THE PRESS BOX TO PRESS ROW w/ Donal Ware will air on ESPN Richmond. The program places an emphasis on HBCU sports and will air each Saturday at 6:00 a.m. beginning on February 6.
"Richmond and Tri-Cities has always been an important market for us," said Ware who is also the BOXTOROW founder. "Virginia Union and Virginia State are there, sports are huge in the area, and there is a great HBCU alumni base. We are elated and excited to partner with ESPN Richmond to bring BOXTOROW to the airwaves."
FROM THE PRESS BOX TO PRESS ROW first came on the air on August 20, 2005. Ware originally hosted the show at a radio station in Baltimore before Terry Banks took over as host from September 2005 to January 2006 when Ware once again began hosting the program. In the early years, BOXTOROW aired in Baltimore/Washington, Birmingham, Greensboro/Winston-Salem, and Atlanta and on WAUG in Raleigh.
BOXTOROW currently airs on three SiriusXM stations (H.U.R. Voices, H.B.C.U., and ESPNU Radio) and in top 50 markets such as Tampa, Jacksonville, Pittsburgh, Tidewater, VA, Nashville, Raleigh, and Greensboro, NC to name a few. Over the years, BOXTOROW has aired in other top 50 markets including San Francisco, Dallas, Washington, D.C., Atlanta, Miami, Detroit, Puerto Rico, Baltimore, Cleveland, Las Vegas, Austin, TX, Salt Lake City, New Orleans, and Milwaukee. The program made its SiriusXM debut in late 2011.
The core of BOXTOROW's focus has been HBCU (Historically Black College and University) sports and the happenings at schools in the CIAA, MEAC, SWAC, SIAC and Tennessee State, Hampton as well as other HBCUs. Over these 15 years, BOXTOROW has told the stories of many athletes, at HBCUs before they became top professional athletes. Indianapolis Colts All-Pro linebacker Darius Leonard, New Orleans Saints Pro Bowl tackle Terron Armstead, Philadelphia Eagles defensive tackle Javon Hargrave, Chicago Bears All-Pro running back/return specialist Tarik Cohen, and Houston Rockets NBA All-Defensive First Team honoree Robert Covington are among many athletes who have appeared on BOXTOROW before they embarked on successful pro careers. The program also features many interviews with coaches and administrators at the various institutions.
Over the years, BOXTOROW has evolved and has had as guests sports and entertainment figures including Serena Williams, Kevin Durant, Jerry Rice, Mike Tyson, Mike Krzyzewski, Jim Brown, Alex Morgan, Michael Strahan, Sheila E., Kevin Hart, Ice Cube, Common, Joss Stone, Snoop Dogg, and T.I. to name a very few.
Events that BOXTOROW has covered or broadcast from include Super Bowls, MLB All-Star Games, NBA All-Star Weekends, NBA Finals, NHL All-Star Game, Daytona 500, and the U.S. Open.
FROM THE PRESS BOX TO PRESS ROW celebrated 15 years on the air with a virtual show on August 20, 2020. The broadcast was viewed by thousands on boxtorow.com, Facebook Live, Twitter, Live and Instagram Live. Guests of the celebration included Entertainment Tonight host Kevin Frazier, Super Bowl winning quarterback and Washington Football Team executive Doug Williams, and Grammy Award winning singer Joss Stone. Raleigh (NC) Mayor Pro Tem Corey Branch also presented a proclamation from the city of Raleigh naming August 20, 2020 BOXTOROW Day in Raleigh.