Frank Ski Returns to Radio in Atlanta with Nina Brown on Kiss 104.1
Frank Ski along with his former producer and now on-air co-host Nina Brown returned to the radio in Atlanta today on WALR Kiss 104.1.
Frank Ski told WSB-TV Channel 2 that "it was a dream of his to partner with Cox Media Group, the flagship company for media in Atlanta." It was one of the determining factors that landed him back on the radio airwaves. Cox Media Group owns Kiss 104.1, WSB-TV, and the Atlanta Journal Constitution newspaper.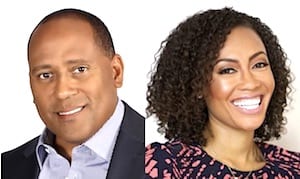 Frank Ski was a longtime host at V-103 WVEE from 1998-2012 and from 2018 to 2020. He and Nina also hosts afternoons from 3-7pm at Howard University's 96.3 WHUR remotely to the Washington, D.C. radio market. Take a listen to Frank Ski's Inspirational Vitamin below.
Great First Day!
Some much ATL Love!
Lil G Producer, Frank Ski, Nina Brown
Shouts to Dyron Ducati for supporting pic.twitter.com/OPlM4N4xCh

— Frank Ski (@FRANKSKI) February 1, 2021
'The Frank Ski Show' returns to Atlanta on KISS 104.1 starting Monday https://t.co/vcmPjPLwoF

— Frank Ski (@FRANKSKI) January 31, 2021
ATLANTA WE'RE BACK!
TOMORROW MORNING
6AM - 10AM
Make sure you tell Alexa, to "Play KISS 104.1." Do it now and listen wherever you are!

KISS 104.1 Mornings & 96.3 WHUR Afternoons
2 CITIES EVERYDAY!
ONLY GO!
When God Says Move, You don't wait. You move IMMEDIATELY!" - Frank Ski pic.twitter.com/RJHV6rHF5U

— Frank Ski (@FRANKSKI) January 31, 2021
@FrankSkiInspirationalVitamin: "Reinvent Yourself
2 Corinthians 5:17 | AMP
Giving you positive inspiration to start AND continue your day! Follow @FrankSki & @NinaBrown for more inspiration and encouragement. Listen to the @frankskishow on @WHURFM every weekday from 3pm-7pm! pic.twitter.com/RXQAVvz70q

— Frank Ski Show (@FrankSkiShow) February 1, 2021