Charlamagne Tha God is Back Where it All Started on Z93 Jamz with The Breakfast Club, Rickey Smiley Moves to Magic 107.3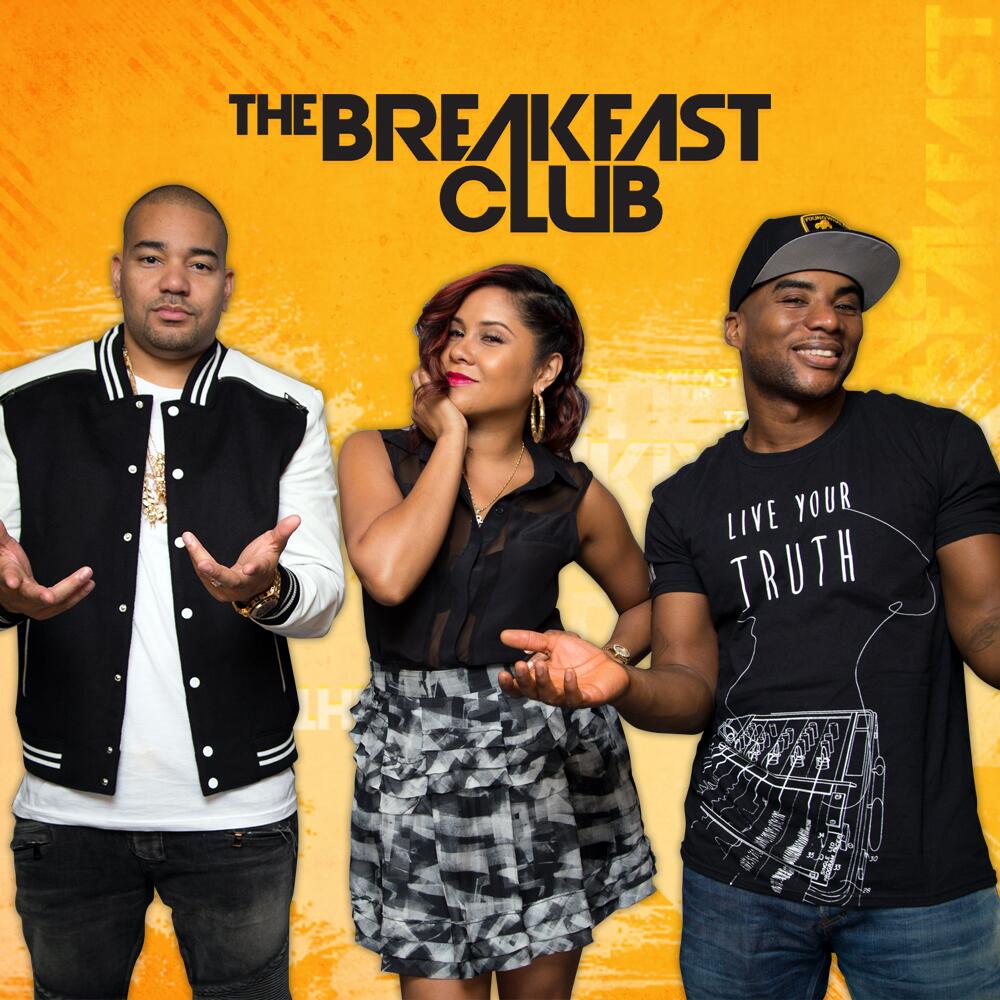 CUMULUS MEDIA announces that Z93 JAMZ/WWWZ-FM and Magic 107.3/WMGL-FM in Charleston, SC, have a new morning lineup. Today, Z93 JAMZ will kick off the week with its new morning show, The Breakfast Club, featuring the Lowcountry's own Charlamagne Tha God. Charlamagne Tha God hails from Moncks Corner, SC, and began his successful radio career at Z93 JAMZ as an intern. The Breakfast Club will air on Z93 JAMZ Monday through Friday from 6:00am-10:00am. The show replaces The Rickey Smiley Morning Show, which moves from Mornings on Z93 JAMZ to its new morning home at sister station Magic 107.3/WMGL-FM. The Rickey Smiley Morning Show airs on Magic 107.3 weekdays from 6:000am-10:00am.
Consistently ranked #1, The Breakfast Club – The World's Most Dangerous Morning Show – is widely regarded as the most informative and entertaining top-rated contemporary Hip-Hop/R&B morning show today. Each morning, fans of The Breakfast Club tune in to hear DJ Envy, Angela Yee and Charlamagne Tha God's unrivaled interviews and conversations with celebrities like Kevin Hart, 2 Chainz, Justin Timberlake, Jennifer Lopez to icons such as Jay-Z, Kanye West, and Nicki Minaj, plus entertainment news and fresh music mixes, along with their signature blend of honesty and humor. Launched in December 2010, The Breakfast Club has been named the No. 1 radio program in the nation by "The Source" magazine on multiple occasions and was inducted into the Radio Hall of Fame in October 2020. The show is nationally syndicated by Premiere Networks.
The Rickey Smiley Morning Show is hosted by nationally renowned standup comedian Rickey Smiley, with an ensemble cast including: Da Brat, Gary With Da Tea, Special K, and Rock-T. The program effectively blends Smiley's Southern appeal with raw humor and personal authenticity as a community activist passionate about issues that concern the community. Guests range from pundits and lifestyle experts to athletes and entertainers. Featuring listener interaction, music, information and entertainment, The Rickey Smiley Morning Show is nationally syndicated by Reach Media.
Kathy Brown, Program Director, WWWZ-FM and WMGL-FM, said: "The Rickey Smiley Morning Show has been an absolute beast in Mornings with a legacy of #1 wins on Z93 JAMZ. As the show moves to its new home on our adult sister station Magic107.3, the laughter, music and commitment to the community continues! Rickey Smiley is a true professional and passes the torch to The Breakfast Club on Z93 JAMZ."
Brown added: "We are so excited to have The Breakfast Club on our station with Charlamagne Tha God, a Monck's Corner, South Carolina, native. The show aligns with our target demographic and reflects the Hip Hop culture that has a strong voice across the country. The Breakfast Club is THE voice that needs to be heard on Z93 JAMZ."


Magic 107.3 is the new home for the @TheRSMS starting Monday morning!! pic.twitter.com/Mi9L7HgnmY

— Magic 107.3 FM (@1073Magic) March 25, 2021
WAKEUP tomorrow morning with @breakfastclubam on Z93 JAMZ starting at 6am! pic.twitter.com/5dQrZAV3B5

— Z93 JAMZ (@Z93JAMZ) May 3, 2021