iHeart is Flipping the Format on a Top 10 Rated Radio Station 106.1 The Breeze and Construction of a New Sound is Underway in Philly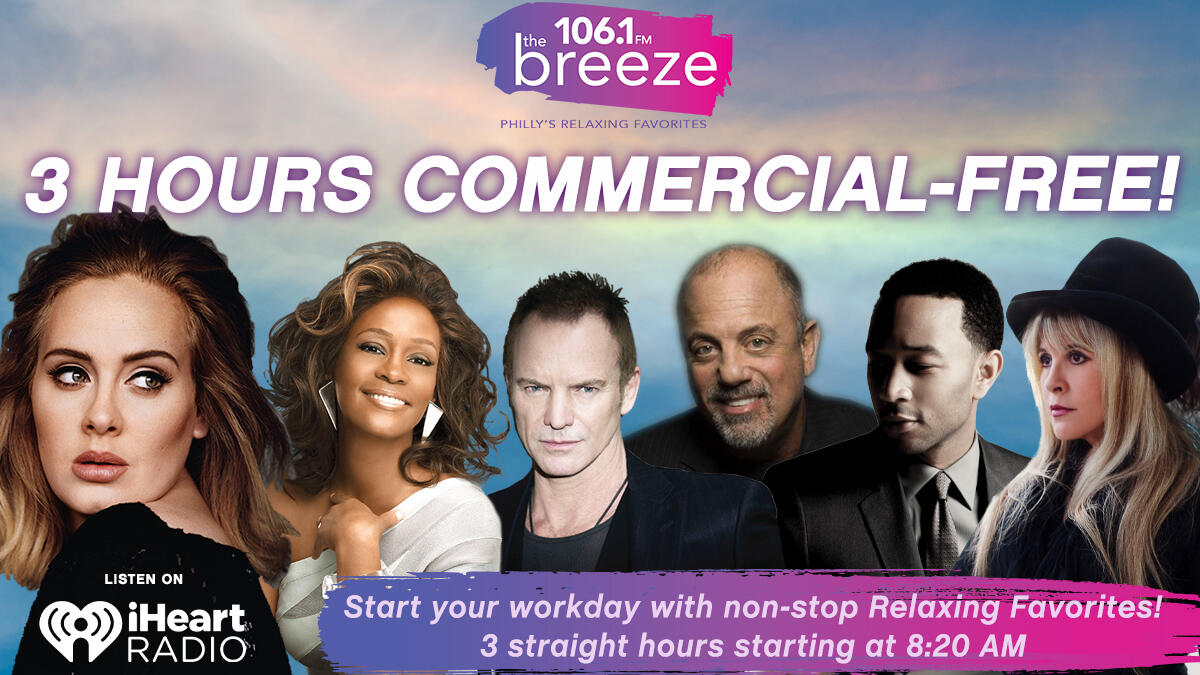 Radio stations usually don't change formats on a seemingly successful Top 10 rated station unless there's a problem. But that is the case with 106.1 The Breeze in Philadelphia. They are now playing a simulcast of their sister station iHeartRadio's CHR format Q102 WIOQ-FM. Philly's Hit Music Station.
The Breeze played Soft AC hits going back to the 70's. Think soft music from Elton John, John Legend, Whitney Houston, Adele, and Billy Joel. Not exactly the type of format that brings in the big bucks.


When your main demo looks like the ladies below, then it's time for a change to a more attractive demo to advertisers. (But didn't they know this would happen?)
106.1 The Breeze had two voice tracked on-air personalities that are also heard on its top rated station 106.7 Lite FM in New York City. Those personalities being
Helen Little
(below: the most listened to on-air personality in the United States) and
Delilah
(the most listened to syndicated female host in the country). But the music on the stations are quite different and they attract different demos with The Breeze attracting much older listeners.
The 106.1 frequency in Philadelphia has had so many different formats over the years it's hard to keep up. The Breeze was launched in 2018. Before that it was known as
Real 106.1
playing throwbacks. It's most successful format was when it was known as
Smooth Jazz 106.1 WJJZ
from 1993 to 2005. A version of that station still exist on the iHeart app and the 106.1 HD2 channel as Smooth Jazz 'JJZ.
End of an era as Valerie Knight @valerieknight01 is let go @1061thebreeze today when they told her they're changing formats. She doesn't know what the new format is yet. Earlier this year @MarilynRussell was let go from @wogl Two On Air Legends in Radio https://t.co/8acB48zoQC pic.twitter.com/db22BW7som

— PhillyChitChat (@HughE_Dillon) March 8, 2022
Where is iHeart going with it's next format? Basically every format has been tried on 106.1. There's nothing else new out there. iHeart airs Adult R&B and Urban formatted Top Rated WDAS-FM and Power 99 WUSL. They also have (Alternative Rock) ALT 104.5, Q102, and WDAS-AM 1480 The Gambler (A sports betting station that features Fox Sports Radio). They also lease WTEL 610 AM which airs 610 BIN The Black Information Network. The formats not on their roster are all-news, country, Spanish music format, and Conservative talk radio station. But those formats are well represented in the market by other media companies.
iHeart recently did a similar stunt in Seattle. They flipped the legendary one time rhythmic/Hip-Hop station KUBE 93.3 to the FM outlet for Sports Radio 950 KJR-AM. Before that listeners were directed to listen to sister station CHR "Hits 106.1" KBKS-FM. In Philly of course Q102 is also playing on 106.1 for now.


Perhaps they'll try techno country???
But more realistically, a Spanish music format maybe next for iHeartMedia and 106.1 FM. The format does exist on AM radio and on low power limited range FM stations in Philadelphia. But then again it was tried on 104.5 FM and 1480 AM as "Rumba" many years ago without much success.
Chio handling the format change on 106.1 in 2017 near the 12:00 minute mark
Teri Webb in 2000, daughter of NYC radio legend Ken "Spider" Webb