DJ Nailz Has Left The Amanda Seales Show to Become New Afternoon Host on Power 107.5/106.3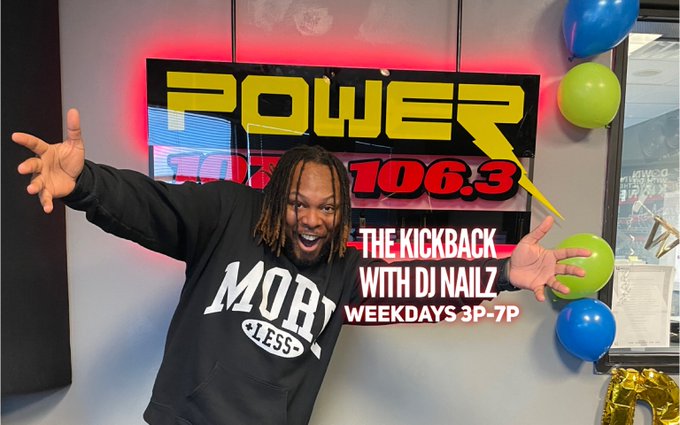 DJ Nailz is now the new afternoon host on Power 107.5/106.3 in Columbus, Ohio. His move to afternoons coincides with his departure from The Amanda Seales Show. The new show, "The Kickback" airs from 3-7pm.
The station promotes Nailz as "Everyone remembers the one cool kid in the neighborhood who had the scoop on everything happening in town and all the hottest music coming out. The kid whose personality was loved by all and their energy is infectious to be around… that kid is Nailz!"
Marc "DJ Nailz" Nixon joined the Radio One hip-hop/R&B station in
November 2021 as APD/midday host
. Nailz was previously with the Cox Media Group station "Power 95.3" WPYO-FM Orlando as an afternoon host. In 2022 he was a guest vacation host for Headkrack on the syndicated Radio One/Reach Media morning show, "The Morning Hustle." Nailz also returned to the Orlando market in August 2022 as he voice tracks nights on the
new FLY 103.3
.
COLUMBUS! Ya boy kicking off the new show The Kickback with Nailz RIGHT NOW TIL 7pm!! @PowerColumbus pic.twitter.com/ViXhs0X6gg

— 🎙️NAILZ 📡 (@DJNAILZ) April 3, 2023
As for the The Amanda Seales Show, it's truly a
"podcast"
that doubles as a syndicated radio morning show in two markets (Philadelphia and Columbus), middays in other markets (Houston and Charlotte) and as an afternoon show (Richmond). It appears the show is in a bit of a transition as losing DJ Nailz came about seemingly unexpectedly. Taking over for Nailz is Seales' co-host from her previous "Smart, Black, and Funny" podcast Jeremiah Jones, who goes by the on-air and social media moniker
"Jeremiah Like the Bible."
DJ Nailz' announcement that he is leaving the show.