No Announcement Yet, But The Best Choice to Replace The Tom Joyner Morning Show Is...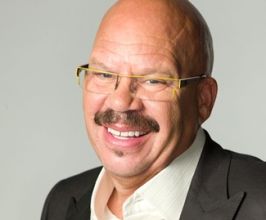 The best choice might be to extend Tom Joyner for one more year through the 2020 Presidential Election, however Tom Joyner will leave the airwaves in December 2019. The media company he founded,
Reach Media
should look in-house for the next host of the syndicated Urban AC morning show. That's the Best Choice. The company syndicates the TJMS and is now majority owned by Urban One/Radio One. The company's CEO since 2016 is
David Kantor
. It will be his call on Joyner's replacement. Reach Media will need a high profile media personality to replace Joyner and
Sybil Wilkes
. Someone that connects to the African American community and can compete with Steve Harvey. As Harvey will likely retire as well from his radio show within the next three years.
The in-house hosts would include
D.L. Hughley
,
Russ Parr
, and
Rickey Smiley
. A long shot would be the new Urban AC syndicated morning show
Rick & Sasha
. Here is the run-down:
D.L. Hughley
has done local morning radio in New York and Los Angeles. However the content Hughley presents on his show is not user friendly for morning radio. Besides he has broaden his horizons with his weekly night time TV talk show on TV One. It's still finding its space in the night time celebrity talk show entertainment arena. At this point D.L. Hughley is probably not interested in doing morning radio show for primarily the east coast markets now that he is based out of Los Angeles. (But that hasn't stop Steve Harvey from syndicating live from L.A. That's 3:00 A.M. folks.)
Russ Parr
has an established morning show in the DMV. Parr transitioned over from Urban/Hip Hop 93.9 WKYS to Urban AC station Majic 102.3/92.7 in Washington, D.C. If he were to do a syndicated morning show it would likely mean a move to Dallas most likely. Parr, who is a movie director and producer, seems now more suited to do local morning radio. He was syndicated when he was on WKYS. Before coming to D.C., Parr did morning radio in Dallas and in LA at K-DAY. But don't count out Parr.
Folks might remember the report from December 2015
from the Daily Mail, the London, England, UK based newspaper stating that
"Tom Joyner will be forced into early retirement next year so that Radio One, which owns a majority stake in Reach Media's The Tom Joyner Morning Show, can move its other syndicated host Russ Parr to take his place."
There was some merit to that report as Parr did replace Tom Joyner in the local D.C.market. Perhaps Russ Parr is the choice and things back in 2015 didn't quite come together for national syndication. Joyner was given a two year contract extension from the company he once owned.
Pairing
Rickey Smiley
with
Sybil Wilkes
would be Reach Media's most logical choice. Rickey currently has a very successful syndicated Hip Hop morning show on stations throughout the south. He is a highly recognizable media talent. His show is based out of Atlanta and is carried in markets outside of the South in Cleveland, Columbus, Indianapolis, Cincinnati, and Baltimore.
The other thing that works in the comedian's favor is his television presence.
All of his cast members now appear on the entertainment program Dish Nation and his own reality show is on TV ONE. It makes the most sense if he is willing to give up his Hip Hop themed show. Now if Sybil Wilkes doesn't join Rickey for continuity and transitional sake, then he will bring over his cast members with him except one.
If Rickey Smiley takes over for Joyner, then a new show would have to be created for the Urban/Hip Hop stations like Hot 107.9 in Atlanta, 92Q in Baltimore, and others. (Too much moving around? Maybe.) A new show headed up by current cast member Headkrack would work. He more that holds his own as the one of the hosts on Dish Nation, as host of After Hours Podcast, and the host of the weekend syndicated show aptly named "The Weekend Krackdown." Many Radio One stations carry it on Saturday morning. He's Hip Hop. Rickey not so much anymore.
One more option would be to sign
Rick & Sasha
, the new syndicated Urban AC morning show from Westwood One.
Rick Party
is a veteran personality who has reached the height of popularity in Miami, Dallas, and Chicago. He has also worked in New York City and Los Angeles. He is currently the voice for ESPN's SportsCenter at 6 P.M. and is often heard on BET and national TV commercials.
Sasha the Diva
is a former Atlanta and Baltimore radio personality. She has hosted national TV shows and was the subject of a popular episode of Fix My Life with Iyanla Van Sant. They are the dark horse choice nationally, but they will be considered to take over for the TJMS in the Big Apple at Radio 103.9. The station is owned by Cumulus Media and The Rick & Sasha Show is heard on many Cumulus owned stations currently.
Are there any other horses in this race?
At one time maybe
J. Anthony Brown
(but he left for the Steve Harvey Morning Show and has experienced recent health issues),
Arsenio Hall
(he was one of the five rotating comedians that replaced J. Anthony Brown on the TJMS, but he is no longer on the show. Besides it always felt like he was trying to audition for the main hosting chair during his appearances on the show), and
Donnie Simpson
(he had a very successful replacement week with Sybil back in January, but at 65 years old, he's not interested in doing morning radio in Dallas. He's a DC favorite and always said syndicated radio never interest him.)
Let's go with Rickey. Roll Tide. But don't be surprised if it's Russ.